Directions
Coming from the South
Take I-25 North towards Denver
Take exit 210B for Auraria Parkway
Merge onto Auraria Parkway
Turn left onto 7th, 9th, or 11th Street to enter Ball Arena grounds
Coming from the North
Take I-25 South toward Denver
Take exit 212B toward downtown
Turn left onto Speer Boulevard
At the second stop light, turn right onto Chopper Circle
Coming from Downtown Denver
Take Speer Boulevard to Auraria Parkway
Turn left (west) on Auraria Parkway and turn right on 7th, 9th , or 11th Street to enter Ball Arena grounds
Pick Up and Drop off
Enter via Speer Blvd. to Chopper Circle
Drop off will be along Chopper Circle
Pick up will be alongside the Toyota RAV4 parking lot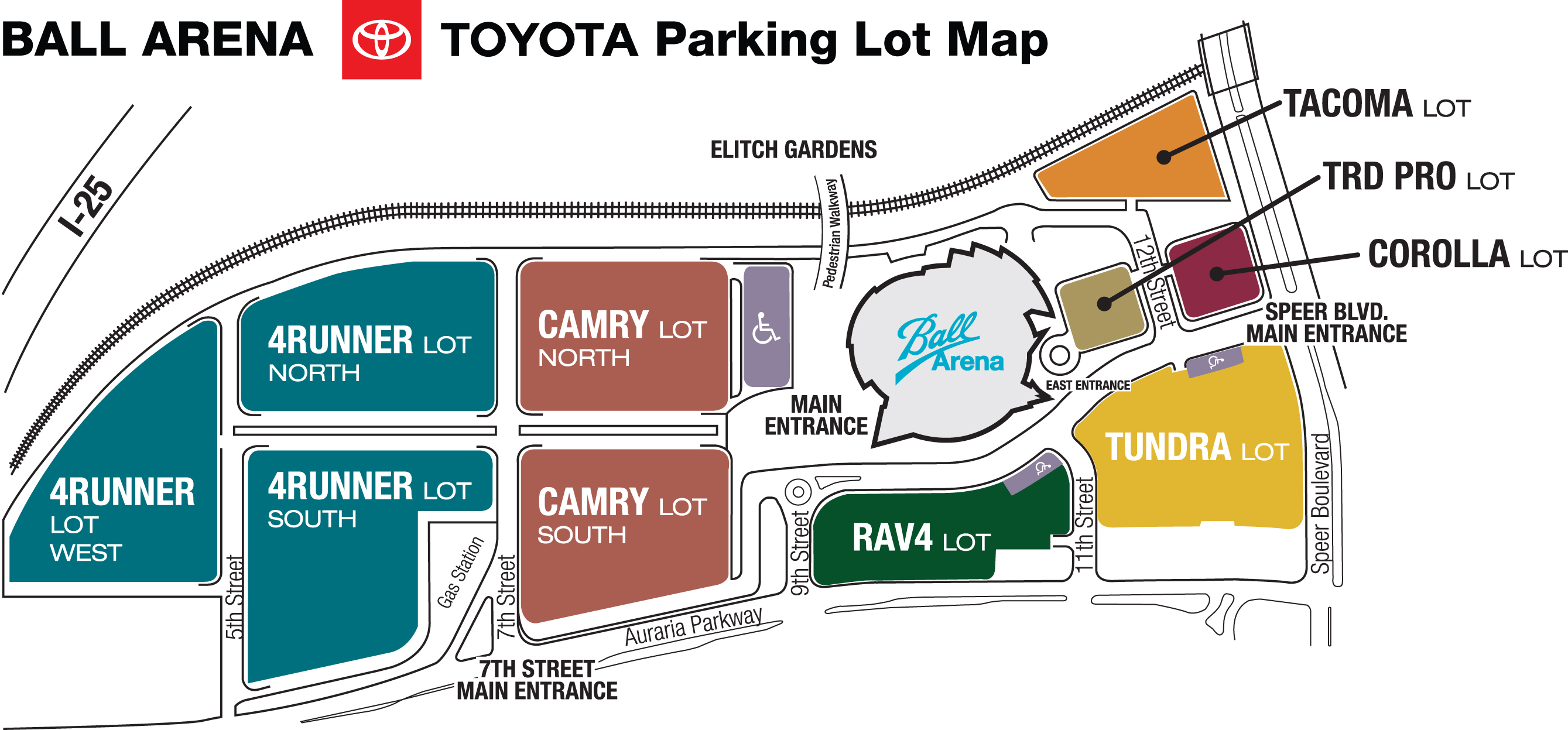 Ball Arena parking lots open 3 hours prior to the start of the event. Credit/debit cards are accepted at all Toyota Ball Arena parking lots for all events; parking rates will be discounted $5.00 when paying with a credit/debit card. For more information on Ball Arena parking and rates, please call Jay's Valet at 303.405.1299. Guests will also be prompted to purchase parking in advance after purchasing event tickets on Ticketmaster.com, or can purchase parking at the link below.
Book Parking Now
Parking Lots
Toyota Camry Lot (VIP)
Located on the southwest side of Ball Arena
During Colorado Avalanche games, access is restricted and available only to vehicles displaying a VIP parking pass
Avalanche Game: Permit only
Nuggets Game: Permit only
Mammoth Game: Permit and $20 cash  |  $15 cc
Concerts & Other Events: $25-$30
Toyota 4Runner Lot
Provides parking to permit holders and the general public
Avalanche Game: $30 cash | $25 cc
Nuggets Game: $30 cash | $25 cc
Mammoth Game: $20 cash  |  $15 cc
Concerts & Other Events: $25-$30
Toyota Tacoma Lot
Avalanche Game: NOT AVAILABLE TO PUBLIC
Nuggets Game: NOT AVAILABLE TO PUBLIC
Mammoth Game: $20 cash  |  $15 cc
Concerts & Other Events: NOT AVAILABLE TO PUBLIC
Toyota Tundra Lot
Provides parking to permit holders and the general public
Avalanche Games: $30 cash | $25 cc
Nuggets Games: $30 cash | $25 cc
Mammoth Games: $20 cash  |  $15 cc
Concerts & Other Events: $25-$30
Elitch's Lot
Avalanche Games: $25 cash | $20 cc
Nuggets Games: $25 cash | $20 cc
Mammoth Games: $20 cash | $15 cc
Toyota RAV4 Lot (Premier Parking)
Available to the general public and offers Ball Arena's closest parking spaces
Avalanche Games: $35 cash  |  $30 cc
Nuggets Games: $35 cash  |  $30 cc
Mammoth Games: $25 cash  |  $20 cc
Concerts & Other Events: $30-$35
TRD-Pro Lot (Valet Parking)
Valet Parking available during Games, Special Events on a first-come-first-served basis.
Valet drop-off and pick-up is located on the circle drive outside of the East Atrium
All vehicles must be valeted by parking department during event.
Avalanche Games: Permit only/Lexus Club
Nuggets Games: Permit only/Lexus Club
Mammoth Games: $40 cash  |  $35 cc
Concerts & Other Events: $40-$45
Parking for Guests with Accessible / ADA Needs
Accessible parking is available at Ball Arena and is provided on a first come, first served basis. Guests parking in a handicap accessible parking space must display a state-issued accessible parking permit.

Camry North Lot provides 103 standard ADA spaces and 7 van accessible spaces. Special Needs parking is also available in Camry North and is available to guests once all other accessible spaces are occupied. The number of Special Needs spaces available varies by event. Access Camry North Lot from 12th Street and Chopper Circle or 7th Street off Auraria Parkway.
Tundra Lot provides 8 standard ADA spaces and 4 van accessible spaces. Access to Tundra Lot is available off Chopper Circle.
Rav4 Lot provides 3 standard ADA spaces. Access Rav4 off 11th street from either Chopper Circle or Auraria Parkway.
RideShare Information
Please note, a new rideshare area on Chopper Circle along the Toyota RAV4 Parking lot between 9th and 11th Street is now in effect for all sports and entertainment events at Ball Arena. This will be the designated rideshare area before AND after events.
As a result of this change, NEW road closure and traffic patterns will be implemented on event day. We encourage patrons to review the NEW pre and post event traffic maps below: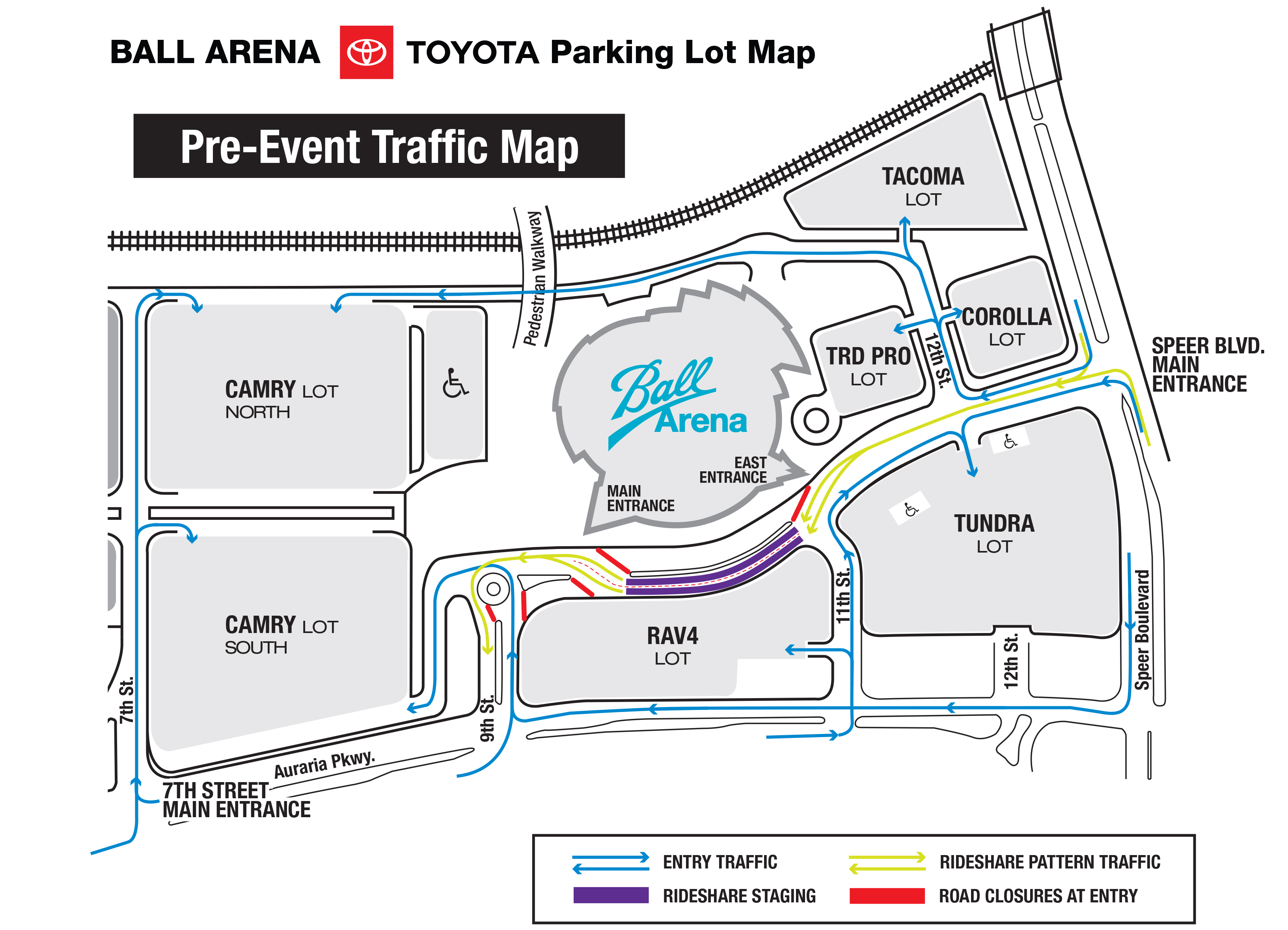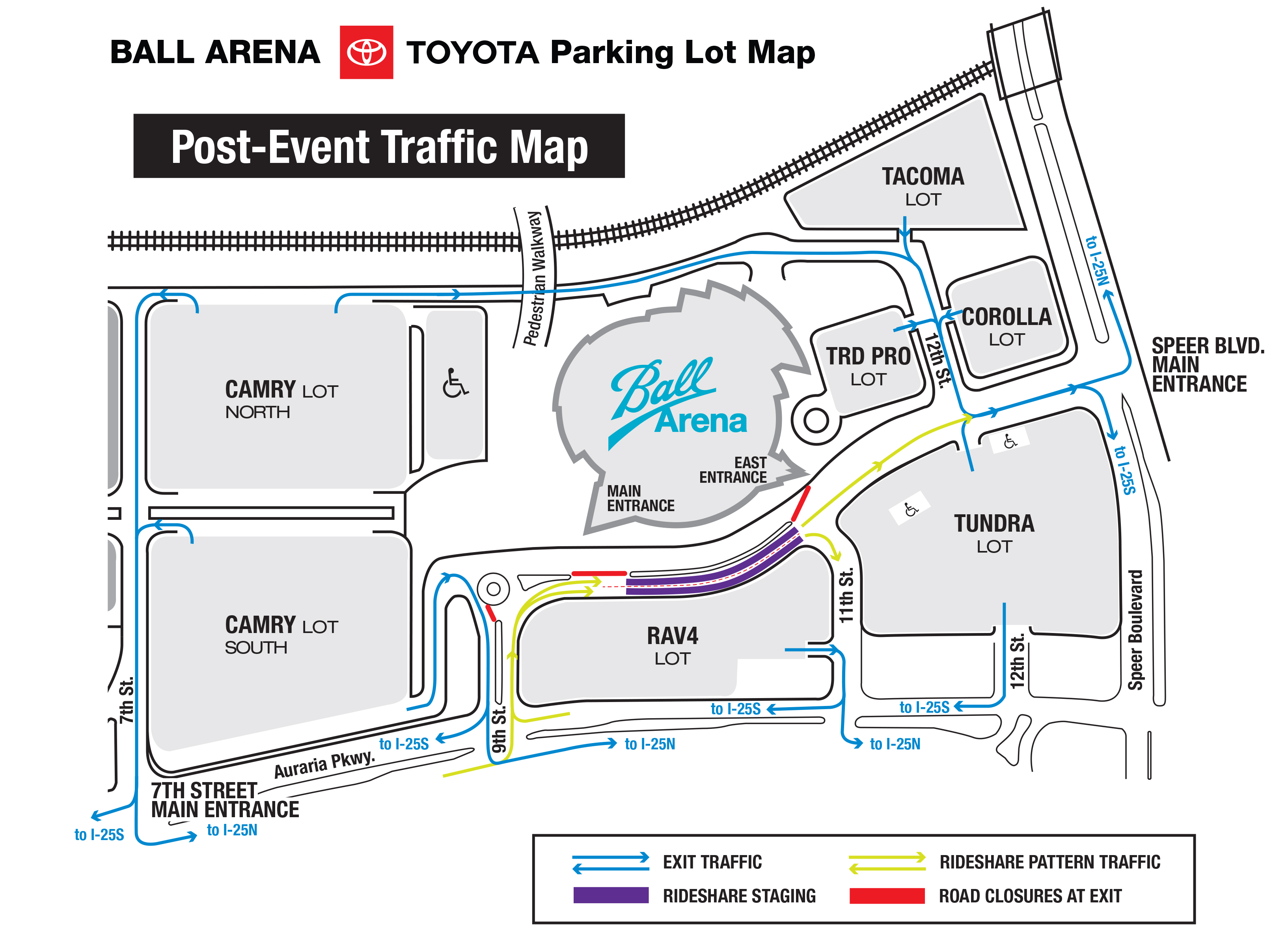 The new rideshare area on Chopper Circle along the Toyota RAV4 parking lot will accommodate rideshare companies and other commercial transportation services (limos, taxis, buses, etc.)
Event attendees with inquiries regarding this change are encouraged to contact Ball Arena Guest Relations at GuestRelations@TeamKSE.com.