We strive to serve our community through education, health and fitness initiatives, athletic programs, and direct aid, with the particular purpose of helping families, children, veterans, and the disabled. Kroenke Sports Charities provides relevant programs and support, directly and with other nonprofit organizations, to ultimately assist, encourage, and enrich the lives of those in need.
---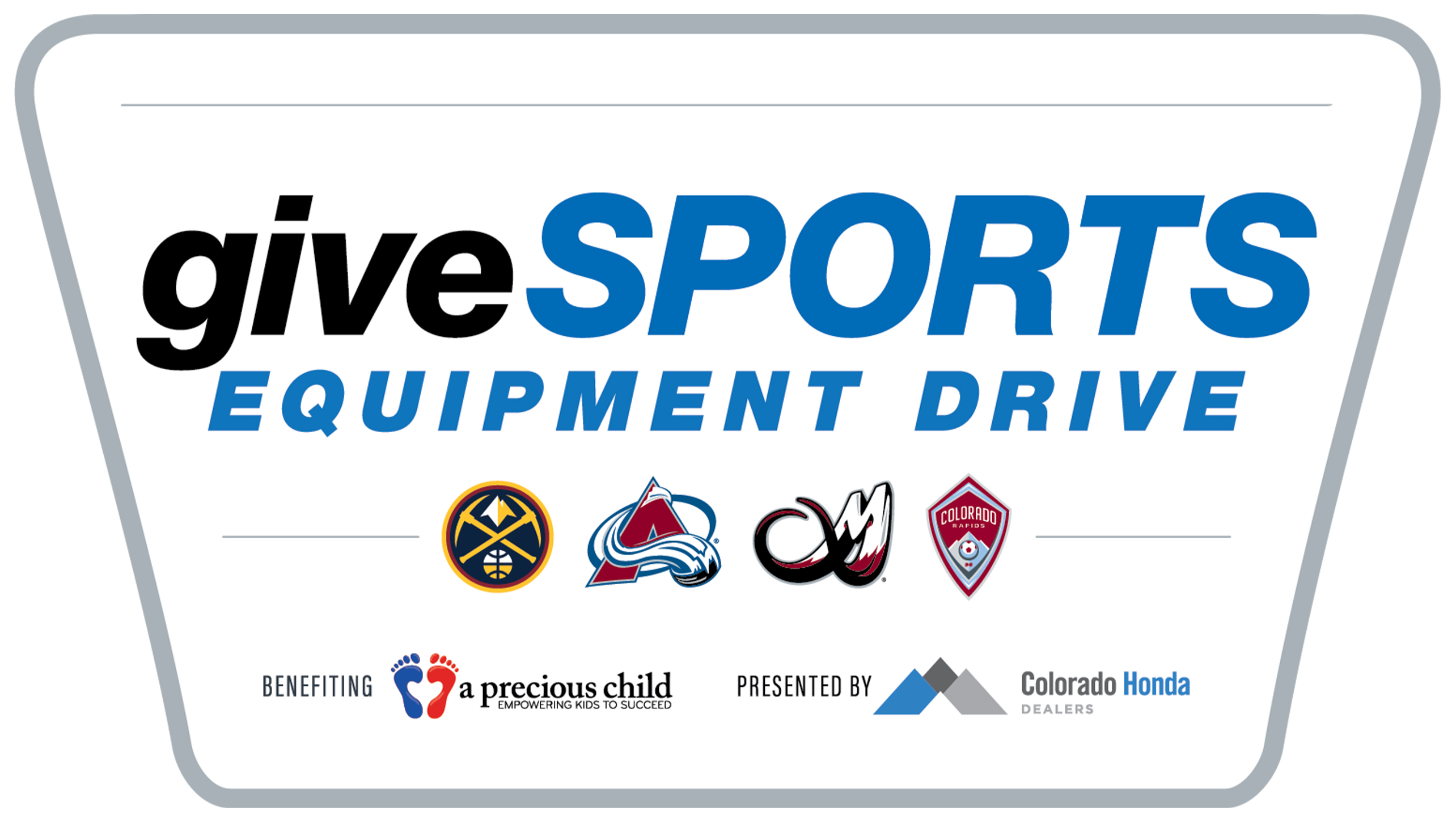 The 12th annual giveSPORTS Equipment Drive.
The 12th annual giveSPORTS Equipment Drive, presented by Colorado Honda Dealers, will be held at Ball Arena on Saturday, September 23, 2023, from 9:00 AM - 11:00 AM in the RAV4 Parking Lot (located between 9th and 11th street; between Chopper Cir. and Auraria Pkwy.). Kroenke Sports Charities, in partnership with A Precious Child and Colorado Honda Dealers, invites the public to support underprivileged children by dropping off new and gently-used sports equipment. Participation in extracurricular sports significantly impacts short and long-term educational, emotional, behavioral and physical outcomes for disadvantaged, poverty-stricken youth.
Representatives from the Denver Nuggets, Colorado Avalanche, Colorado Mammoth, and Colorado Rapids will be in attendance to greet donors. Donors attending the event on September 23rd will receive a tax donation letter and voucher good for two (2) tickets to a Nuggets or Avalanche pre-season home game, while supplies last. Cash donations will be accepted at the event. Monetary donations can also be made online at any time by visiting https://apreciouschild.org/donate-givesports/.
Equipment from all sports is accepted, however equipment from the following sports is most needed: basketball, hockey, lacrosse, soccer, football, baseball, softball, and volleyball. Bicycles are accepted in any condition. Clothing donations will NOT be accepted.
Athletic cups, helmets, and mouthguards will only be accepted in brand new condition.
Donors who are unable to attend the event on September 23rd are invited to drop off equipment at one of the following designated Colorado Honda Dealers locations between September 4th - 18th*:
Mile High Honda -- 2777 S Havana St, Denver, CO 80014
Schomp Honda -- 1003 Plum Valley Ln, Highlands Ranch, CO 80129
Holman Honda -- 10750 E Arapahoe Rd, Centennial, CO 80112
Planet Honda -- 15701 W Colfax Ave, Golden, CO 80401
Auto Nation Honda 104 -- 2999 W 104th Ave, Westminster, CO 80234
Fisher Honda -- 6025 Arapahoe Rd, Boulder, CO 80303
*Please note that dealerships are closed on Sundays
Since its inception, the giveSPORTS Equipment Drive has collected over 202,000 pieces of sports equipment, and more than $120,000 in sports scholarship funds to benefit more than 64,000 local children in need. To learn more about the giveSPORTS program, visit https://apreciouschild.org/what-we-do/givesports/.
---
Read KSC Community Report
For more information please e-mail Deb.Dowling@TeamKSE.com or call 303.405.1100.
Kroenke Sports & Entertainment Community Pride Ticket Program provides tickets to local nonprofit organizations that serve children, public servants, and community and civic groups who might not otherwise have a chance to attend a professional sporting event.